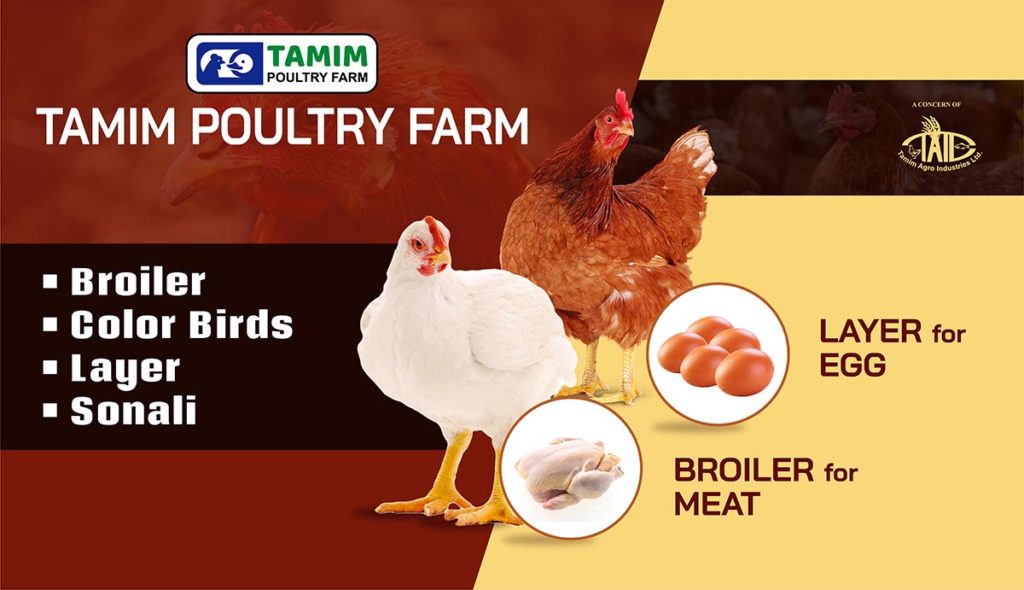 Tamim PCommercial Farms
A Tamim commercial Farms multiple section of different chicken breeds for commercial market and customers. We have couple of seven storied controlled shed for rearing chicken.
We provide proper care to nourish healthy chickens, with proper veterinarian care and technical advice to our farms so that we could ensure day-to-day care of the birds and housing maintenances on which they're raised.
We also strictly prohibit the use of added hormones and steroids.
Tamim commercial Farm is reputed for having the finest poultry infrastructures in the country. Our core operations are strategically located in Shahjahanpur, Bogura and heading for expansion country wide.
Our facilities constitute of separate brooding, growing and laying sheds, cold storage rooms for hatching eggs, farms and hatcheries for layer and broiler, breeders, feed and disease testing laboratories with modern analytical and diagnostic tools.
We are uncompromising in our control and monitoring of the production cycle. From the arrival of chicks/raw material to dispatch to our customers, biosecurity measures are stringently followed.
Our commercial Farm's chicken Breeds Are
• Broiler
• Layers
• Sonali Chicken
Tamim Poultry Farm
Tamim Poultry Farm offers a wide variety of live chicken, including different breeds like broilers, layers, Shonali birds and Duck. Apart from our organisation owned facility of poultry farm we also have different farms of different breeds of multiple location across the country.
Additionally, we offer a large selection of farm fresh eggs, from brown eggs to white eggs in a variety of sizes. We also offer duck and quail eggs depending on the season.
Recently we also introduced ourselves on contract farming divisions
Contract poultry farming is also a new segment of Tamim poultry farms. Contract poultry farming is not just the industry standard; it's also a relationship we believe works well for everyone.
We supply the birds and feed, and provide technical advice, while the poultry farmer provides the labor, housing and utilities. This cooperation between Tamim poultry farm division and family farms (contractual) increases efficiency and quality, while maintaining affordable prices for consumers.